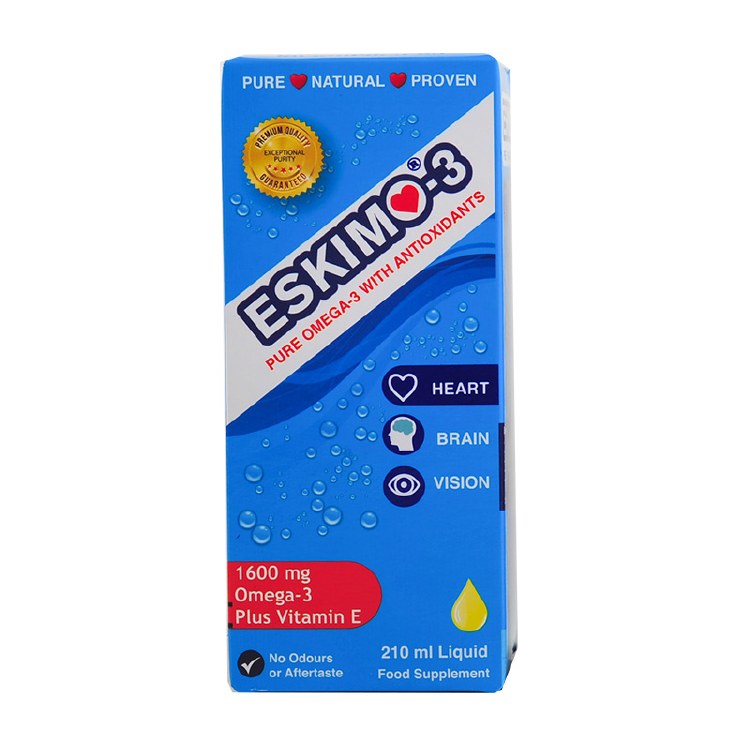 Eskimo-3 Omega 3 Oil with Vitamin E 210ml
Size: 210 ml
€24.40 €20.35 €4.05
Eskimo-3 is a unique, stable fish oil supplement that has not been chemically modified or processed like other fish oil products and EPA-DHA supplements. Eskimo-3 is naturally derived.
It is manufactured under strict quality control with guaranteed potency, purity and quality. Natural antioxidants in Eskimo-3 provide exceptional stability.

Eskimo-3 Omega -3 with Vitamin E enjoys some very special features that distinguishes it from other fish oil supplements on the market. Following are some reasons why Eskimo-3 is the only omega-3 fish oil to buy:

- Eskimo-3 is free from environmental contaminants
- Natural fish oil, which has not been chemically modified.
- Incredibly stable
- No fishy smell or aftertaste.

Eskimo-3 comes in the convenience of either capsules or liquid.

Ingredients Eskimo-3 Omega-3 with Vitamin E 1600mg
Each teaspoon typically contain:
Omega-3 Fatty Acids 1,500 mg
of which
- EPA (eicosapentaenoic acid) 750 mg
- DHA (docosahexaenoic acid) 500 mg
- Natural Vitamin E (d-alpha tocopherol) 14 mg
Flavouring: lemon oil

Directions:
Take 1-2 Teaspoons Eskimo-3 daily.

CAUTION: Not recommended for haemophiliacs. Consult with a medical doctor if on anti-coagulant medication.