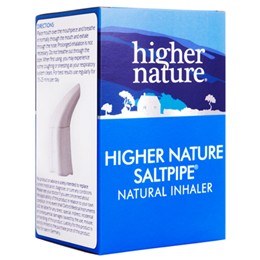 Higher Nature Saltpipe Natural Inhaler
Size: 1
€34.95
The Higher Nature Saltpipe™ has been known to help everything from asthma and hay fever, to chronic snoring. It can also help if you suffer from shortness of breath, severe coughs and colds, or the effects of a smoky, polluted environment.

The Higher Nature Saltpipe™ is a natural inhaler which brings the benefits of salt mine therapy to your home

Salt therapy may be beneficial for:
- Allergy sufferers, especially pollen
- Asthma
- Colds and other respiratory infections
- Nasal congestion
- Those living in polluted environments
- Snoring

A few minutes of regular daily use:
- Helps you breathe more easily
- Helps cleanse the respiratory system
- Assists recovery from respiratory illness
- Enhances feelings of wellbeing

Higher Nature Saltpipe™
- Registered Class1 medical device
- Can be used with prescribed inhalers
- Hygienic, easy to clean porcelain
- Even with daily use will last up to 5 years

The Higher Nature Saltpipe™ is a handy inhaler which offers the benefit of portable salt therapy whenever you need it.

DIRECTIONS FOR USE
Place mouth over the mouthpiece, breath in normally through the mouth and exhale through the nose. Prolonged inhalation in not necessary. Do not breathe out through the Higher Nature Saltpipe™.

When you first use the Higher Nature Saltpipe™, you may experience some coughing or sneezing as your respiratory system clears.

For best results, use the Higher Nature Saltpipe™ regularly.

Recommended usage: 15-20 minutes every day. (Suitable for children over 5 years).

Warning: For hygiene reasons, to be used by one person only.

To keep the Higher Nature Saltpipe™ in good working order, clean with a damp cloth, avoid placing in water, dry thoroughly and store in a dry place.

Warning: Please read the enclosed instructions before use.

Active ingredients: Miocene salt crystals composed of sodium chloride, magnesium and calcium. The active ingredients will last up to five years under normal usage.