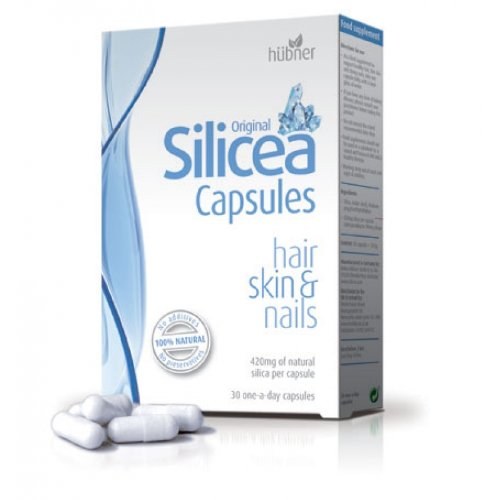 Hubner Original Silicea Capsules 30 Capsules
Size: 30 Capsules
€15.95
Silicea Capsules with Biotin and trace elements to support hair, skin, nails and bones.

Hubner Original Silicea supplement, developed in line with the latest technical innovations, is 100 percent natural.

It contains the optimum level of silicon and the trace elements zinc, manganese, selenium and biotin required by the body.

Selenium and Biotin contribute to the maintenance of normal hair.
Biotin assists in the maintenance of normal skin.
Zinc contributes to the normal process of cell division and the maintenance of normal bone.
Selenium and Zinc take a role in the maintenance of normal nails.
Manganese contributes to the maintenance of bone.

Due to its colloidal, i.e. micro-dispersed structure, the silica contained in the capsules is absorbed efficiently by the human body.

Directions:
Take 1 Silicea Capsule daily between meals, with a large glass of water.

It is gluen, lactose, additives, preservatives Free.
Suitable for vegetarians and vegans.