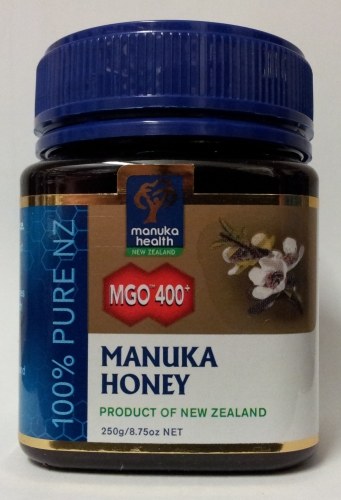 Manuka Health MGO400 Manuka Honey 250g
Size: 250g
€46.50
Unique to New Zealand MGO Manuka honey is the only 100% natural food in the world shown to have EFFECTIVE and RELIABLE anti-bacterial activity due to the active compound Dietary Methylglyoxal which forms naturally in the nectar of manuka plant.

Unique MGO Manuka Honey is collected from a New Zealand plant called Leptospermum scoparium. For quite some time the unique manuka honey anti-bacterial activity was known and measured by a general measurement of its biological effect.
What was causing the antibacterial activity remained unknown for almost 15 years.

The discovery came from the research group led by Professor Thomas Henle, University of Dresden (Germany).

The Precise Standard for Unique Reliable Activity of MGO Manuka Honey

Manuka Health has introduced a new brand - MGO Manuka Honey and measures methylglyoxal content based on standards developed by University of Dresden. For example, MGO100 Manuka Honey is certified to contain at least 100mg/kg of dietary methylglyoxal, the minimum required for health benefits.