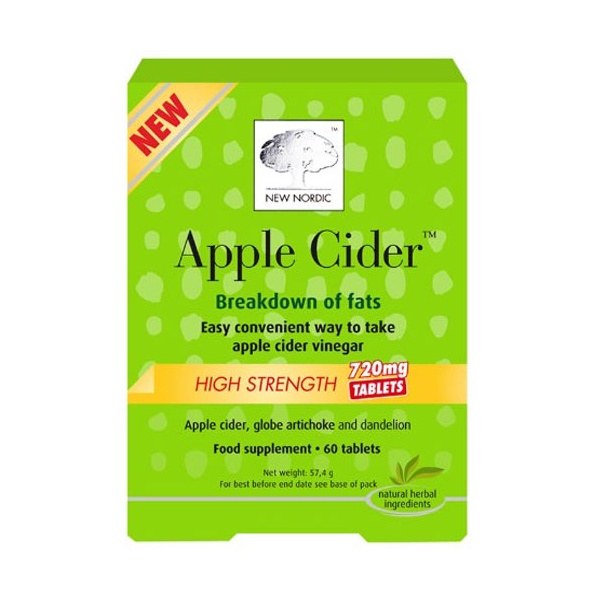 New Nordic Apple Cider High Strength 720mg 60 Tablets
Size: 60 Tablets
€16.45
New Nordic's Apple Cider tablets are recommended to people who want help to manage their fluid levels and break down of fats in the digestive system.

The tablets are based on a Swedish apple cider formula with artichoke and dandelion.

Apple cider has been traditionally used in Scandinavia for its high acetic acid and OPC (oligomeric proanthocyanidin) antioxidant activity.

- Apples have the highest OPC antioxidant content of any fruit, herb or vegetable. - Globe artichoke leaves help to break down fats in the intestine and improve digestion. - - Dandelion helps maintain a healthy fluid output.
About 60 per cent of the body weight is related to body fluids and many people are troubled by excess body fluids.

Advantages New Nordic Apple Cider:
1. Helps maintain a healthy urinary output
2. Helps break down of fast in the intestines
3. Improves bowel movement and digestion.

Dosage
2-3 tablets daily with a glass of water at breackfast.

New Nordic Apple Cider is free from sugar, salt, gluten, yeast soy and and dairy products. It is formulated without use of preservatives, flavours or colouring agents of any kind. Suitable for vegetarians and vegans. Not tested on animals

Content: Exclusive Formula - per daily intake of 3 tablets:
Apple cider vinegar powder, 20% equals 2160mg
Globe artichoke extract 13.5:1 equal to 2835 mg dry herb
Dandelion extract 5:1 equal to 1050mg dry herb

Ingredients Apple Cider Tablets:
Apple cider vinegar powder, stabilisers (cellulose), Cynara scolymus (globe artichoke), Taraxacum officinale (dandelion), anti-caking agent (vegetable magnesium stearate, silicon dioxide) Negligible energy, protein, carbohydrates and fat.