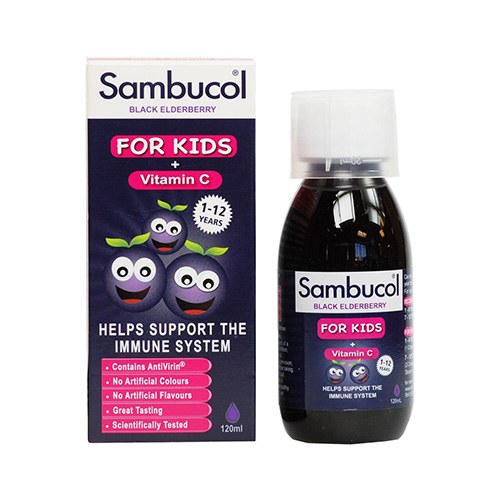 Sambucol For Kids Black Elderberry Liquid 120ml
Size: 120ml
€9.95
Buy One Get One Half Price: buy 1 and get 50.00% off 1!
Sambucol for kids with Vitamin C helps support the immune system.

The unique preparation method for the standardised Black Elderberry juice used in Sambucol For Kids preserves and maximises the naturally occurring health benefits of berry.

The flavonoids present in the Black Elderberry liquid are among the most potent naturally occurring antioxidants available.

Elderberry contains a broad range of nutrients possessing significant antioxidant/free radical scavenging activity, including polyphenols, carotenoids and Vitamin C.

INGREDIENTS Sambucol Black Elderberry For Kids:
Glucose Syrup, Purified Water, Black Elderberry Juice (Antivirin®), Vitamin C (ascorbic acid), Acidity Regulator: Citric Acid, Preservative: Potassium Sorbate.

Nutritional Information:
Per 5ml
Black Elderberry: 0.95g
Vitamin C: 32.50mg

It can be used throughout the year to support the immune system.

Sambucol For Kids contains No artificial colours, flavours or sweeteners.
It is suitable for vegetarians and vegans.